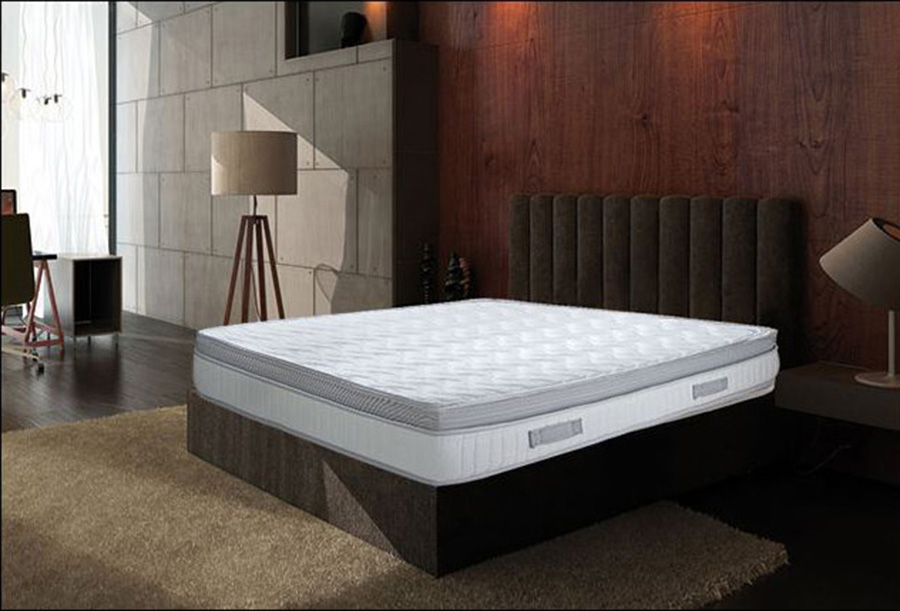 Structure:
- 352 pocket springs with 7 differentiated zones + 8 cm of memory (in the  80×200 size)
- 360 pocket springs with 7 differentiated zones + 8 cm of memory (for 90×190 size)
- 600 pocket springs with 7 differentiated zones + 8 cm of memory ( for 140 size)
- 736 pocket springs with 7 differentiated zones + 8 cm of memory (for the 160 size)
- 832 pocket springs with 7 differentiated zones + 8 cm of memory (for the 180 size)
- 928 pocket springs with 7 differentiated zones + 8 cm of memory (for the 200 size)
Topper: 8 cm Memory with Aloe Vera treatment
Padding: anallergic fibers
Covering: stretch fabric with antibacterial treatment
This mattress is composed by a pocket springs box system with 7 differentiated zones and a Pillow Top.
The Pillow Top, made with the memory Foam with Aloe vera 8cm high of density 45 kg / m3, makes the product extremely comfortable adapting itself to the body shapes. The possibility to turn the mattress gives to the product a dual use: sleeping on the side with the topper is like sleeping over a pocket springs mattress with memory foam, the other side allow you to sleep over a mattress of only pocket springs.
The product is covered with stretch fabric stain soft, that, thanks to its properties, guarantees a good sleep since the first use. It also has a perimetral 3D Air System side band able to ensure a continuous air circulation.